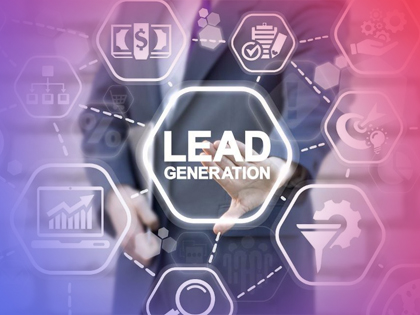 Lead generation is fundamental to digital marketing. Digital marketing includes a whole slew of activities like onsite and offsite SEO, social media and search engine marketing. The end purpose is the same: generate leads.
Businesses thrive on a growing stream of leads they can convert to sales. Without leads a business may even go under. It is a given that in this age of internet complexity businesses may not have the people with expertise in online lead generation and this is where lead generation services provide a vital service. We engage in lead generation services that deliver a constant stream of convertible leads to your inbox or by phone to your sales people.
Our lead generation covers organic SEO activities and social media channels for long term outcomes. For the short term and for immediate leads we engage in search engine marketing. Our expertise is in PPC, video as a tool, pay per call and mobile searches. We also include behavioral and contextual targeting along with general ads on major portals as well as affiliate marketing to drive leads.
Strategies
Access1 solution crafts a tailor made strategy that can include various avenues such as:
Organic traffic growth: This is achieved through organic SEO. Our experts carry out on page SEO of your website and align it with search engine requirements that will help give it a boost in rankings. At the same time we work on creating inbound links through offsite SEO activities making use of well researched keywords and rich content.

Search engine marketing: We craft well researched SEM PPC campaigns using the right set of keywords and text with finely tuned positioning and timing of ads to generate targeted traffic as well as optimize click costs for maximized ROIs.

Banner ads: Our graphic experts and copywriters combine to create eye-catching banner ads that are deployed on popular portals through online advertising programs to generate leads.

Blogs, forums, social media: We create content and keep targets engaged through these diverse channels, creating an authoritative identity and the right branding leading to higher traffic and growth.

Email: We engage in periodic email marketing campaigns to attract new buyers and newsletters to retain and keep engaged existing subscribers who may become buyers at some point in time.
We keep track of online searches which are one of the most reliable indicators of people looking for products and our lead generation experts reach them first. We engage with prospective leads and lead them to the point of conversion at which stage the "hot" lead is handed over to sales personnel of clients for conversion into a sale.
Benefits of retaining us
Access 1 implements a broad spectrum of activities to generate leads in the shortest time.

You pay only when you convert a lead.

We do not sell leads to anyone else and are honest in our dealings.

We can craft campaigns based on specific parameters so you get leads only from selected regions.

Our rates are affordable and we provide ongoing support as well as collaboration.